Jacqueline Marval by François Roussier
It's really impossible to omit Madame Jacqueline Marval's art when speaking of the evolution of French painting at the beginning of this century. She is probably the painter who provided the greatest inspiration to the young "Fauve generation", and so we must mention her innovative work. After long years of "purgatory", we now see a rebirth for her and her famous contempories, who were often her friends.
She was born in 1866 at Quaix, near Grenoble, and she moved to Paris around 1896 to 9, rue Campagne Première in Montparnasse where she lived with a multitude of other artists. Her beloved friend, the painter Jules Flandrin, was one of Gustave Moreau's students. There she was also to meet Henri Matisse, Albert Marquet, Manguin, Kees Van Dongen, Camoin, Rouault…
On arriving in Paris, she lived the hard life of a streamstress, and took up painting in the late 1890's. The first great landmark in the career was in 1901 when she took part in the "Salon des Indépendants". Berthe Weill, Ambroise Vollard and Eugène Druet were all greatly interested in her works, buying them and arranging exhibitions in their galleries.

Her independent mind, as well as her nature which was that of a cheerful and creative woman, set her apart from her piers. After the world famous Modern Art exhibition of 1902, during which Matisse, Marquet, Flandrin and Marval's paintings where exhibited for the first time, at Berthe Weill's small gallery at 25 rue Victor Massé, she began a long, active and flourishing period marked by numerous exhibitions in Paris, Europe and the United States.
While at the "Salon des Indépendants" in 1903, Matisse* was stunned with admiration for Marval's painting "Les Odalisques", which is now in the Musée de Grenoble. with similarities within its dimensions and inversed format, we can only wonder if and how this painting "les odalisques", 1902-1903, did bring anything to the painting of the century, "les demoiselles d'avignon", 1906-1907, by picasso ?

In 1905, the painters Marquet and Manguin compared their work with Jacqueline Marval's as "good taste in front of her genious", on a postcard they sent to her in 1905.
* In Matisse's words while a visit in Lucien Mainssieux's (1885-1958) atelier. Visit reported in his manuscrits, since then at the Mainssieux Museum (Voiron, Isère, France).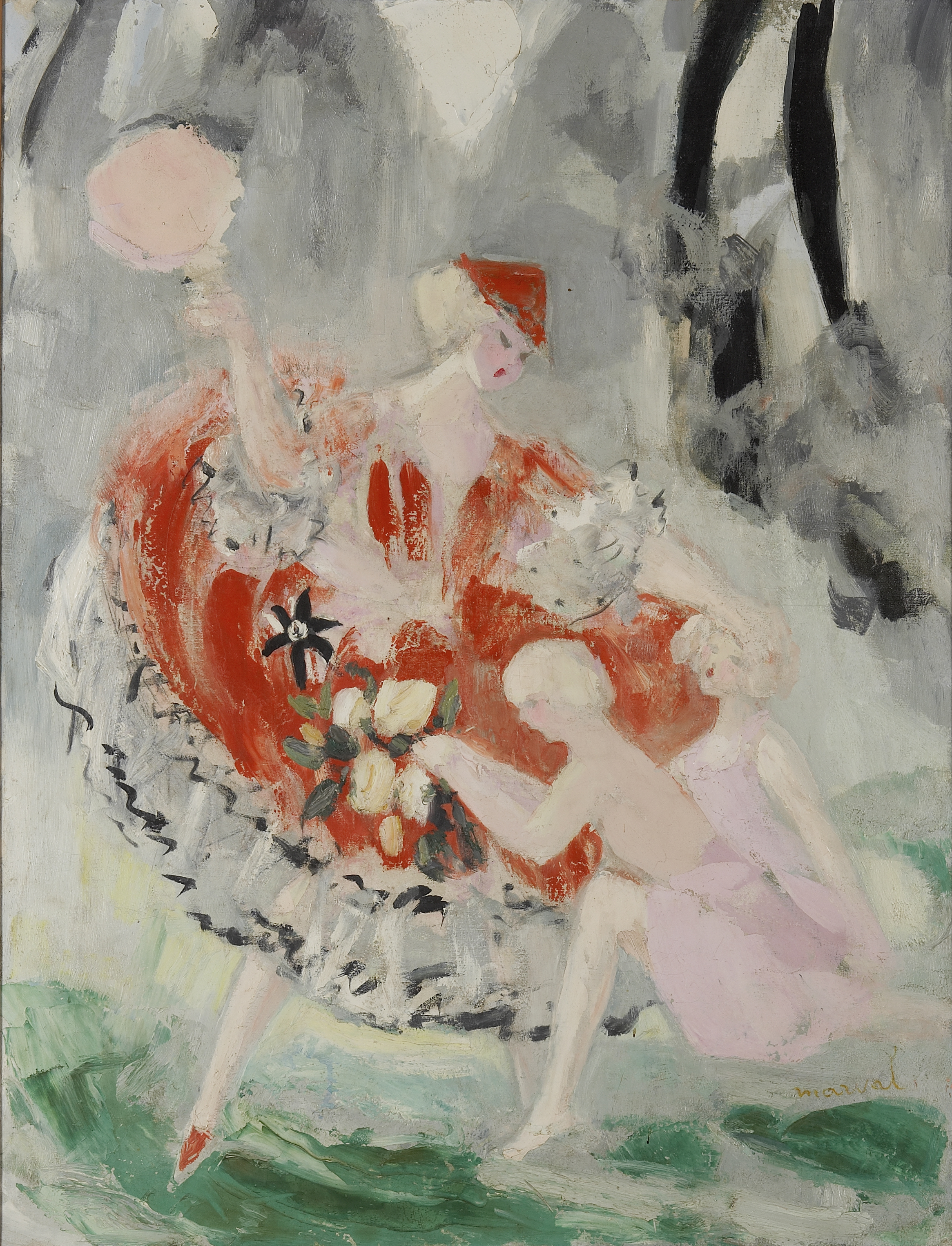 Admired for her spontaneous and fine talent and for her great generosity and kindness towards friends and young talents, the parisian critics glorified her. She lived amongst the flowers she painted in her "Belle Campagne" at 19 quai Saint-Michel, next to her friends Matisse and Marquet, where her windows opened on to Notre Dame or bridge Saint –Michel and where she lived in a fantasy world of never-ending youth.
She died in poverty in Paris in 1932 during the economic depression.

After the Second World War, the new art galleries tended to exhibit works by living artists – the great painters of the mid twentieth Century such as Picasso, Léger, Braque, Chagall, Matisse, Foujita, Laurencin, Utrillo, etc…- and the newer generation. Twenty years after her death without an heir and after the closing of the Galerie Druet in 1938, Marval became forgotten.